We conduct "How to manage dry leaves" webinar for educational institutes, organisations, various groups.
Ever wondered why trees shed leaves? 
And suddenly, why it has become such a great challenge for us in the city?
Why burning of leaves is wrong and most importantly, how can we manage all these dry leaves? 
Answer is soil-to soil principle. This is what happens in nature. Everything comes from the soil and everything goes back to the soil.
Want to learn eco-friendly ways to manage dry leaves? Want to educate your students/ colleagues about the same? 
Our webinars are the way. 
Here is what people say about them. 
HOW TO ORGANISE THE WEBINAR?
Write to us at [email protected] 
Webinar Duration: 1 and half hour
Webinar fees: Rs. 2500/-
"How to manage dry leaves" webinar organised by Oil and Natural Gas Corporation Limited (ONGC)
ONGC team thanked us for the interactive webinar that covered all aspects, why trees shed leaves, what happened in nature, what it is a challenge for us and how we can manage dry leaves in eco-friendly manner. 
"How to manage dry leaves" webinar orgnised by DAV college, Chandigargh
Around 100 students and professors attended this seminar delivered online. 
What the organiser of the webinar, Dr. Ranju Gulati, HoD, Botany, has to say about it, 
---
Dear Aditi Ma'am
I on behalf of the entire DAV College community and on my own behalf would express my heartiest gratitude to you for delivering a wonderful talk in a very lucid manner and explaining to us the importance of leaf litter. All the participants were mesmerised by your talk  which has been reflected in their feedback forms too. The real astonishment to each one of us was that you having such diverse background are working so deeply in the field of ecology.
Hope we will have chance to have more such interactions and collaborations in the future.
After about 2 weeks, we received mail from one of the students, Tushar Kaushal, who attended this webinar,
—————
To Aditi Deodhar,
Greetings,
Im a student of DAV college Chandigarh and a few days ago I had the honour of attending your seminar on Leaf compost and that motivated me and another classmate to do something similar.
We got in contact with local authorities and after a while of discussion, persuasion and planning, we built a leaf compost in a local park which is about 6 ft deep and filled with leaves and dry grass from the park, the local houses and other surrounding areas.
We just wanted to share our work with you, and let you know how much your seminar moved us and motivated us to take another step in the same direction
This was the best testimonial we received. 2 students who attended our webinar, actually implemented the solutions we suggested. 
"How to manage dry leaves" webinar organised by Sehreeti, as part of their Ird-gird series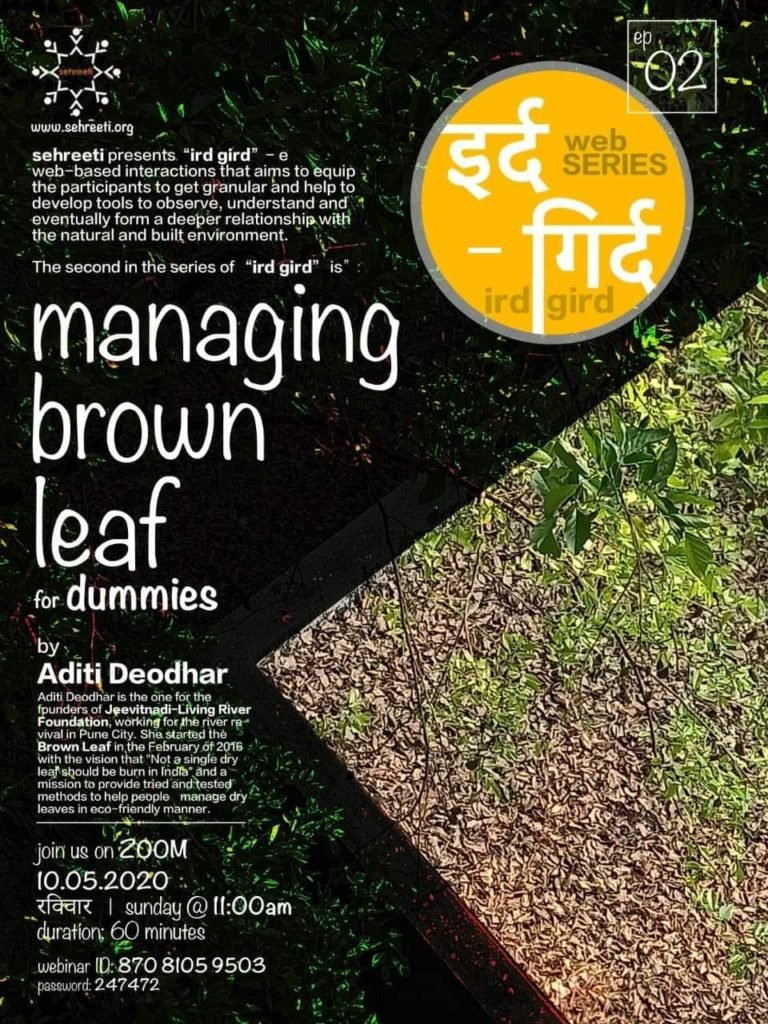 thank you Aditi Deodhar  for doing that session with us! your passion and commitment to Jeevitnadi  and managing brown leaf shone through your session with us!
HOW TO ORGANISE THE WEBINAR?
Write to us at [email protected] 
Webinar Duration: 1 and half hour.
Webinar fees: Rs. 2500/-
Would you like to subscribe to our blog?
We promise we will not spam. We publish weekly blog to provide some interesting insights, methods, case studies.
You will also receive notification of our webinars.
You can unsubscribe any time.