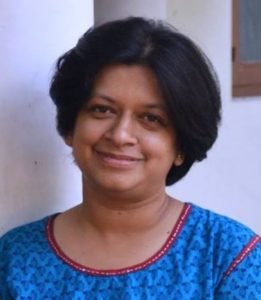 I have done post-graduation in Mathematics. I worked in the IT for 6 years. Along with technical expertise, it provided me valuable experience in analysis, automation, which comes handy to me now. 
Then, I worked as a software consultant for a NGO working in the area of Watershed Development. There, I basically acted as an interface between the domain knowledge (agriculture, biodiversity, livelihoods development) and the IT team. We developed some tools into software. As part of that, I got an opportunity to visit villages and talk to people, to understand ground realities.
In 2012-13, I completed post-graduate diploma in Natural Resources Conservation and Management from Ecological Society, Pune, founded by eminent ecologist, Prakash Gole. I had no idea that course would be a turning point in my life.
It literally opened my eyes to the world around. The course taught me connectedness in nature. 
That was the time when 2 things began bothering me the most, one was sight of polluted river in my city and the other, dry leaves being burnt all around. 
Fallout of those was formation of Jeevitnadi – Living River Foundation, where I am one of the founder-directors. (https://jeevitnadi.org)
And creation of the forum, Brown leaf. 
Vision: 
"Not a single dry leaf should be burnt in India"
Mission: 
"To help you manage dry leaves in eco-friendly manner"
Here is the story of Brown Leaf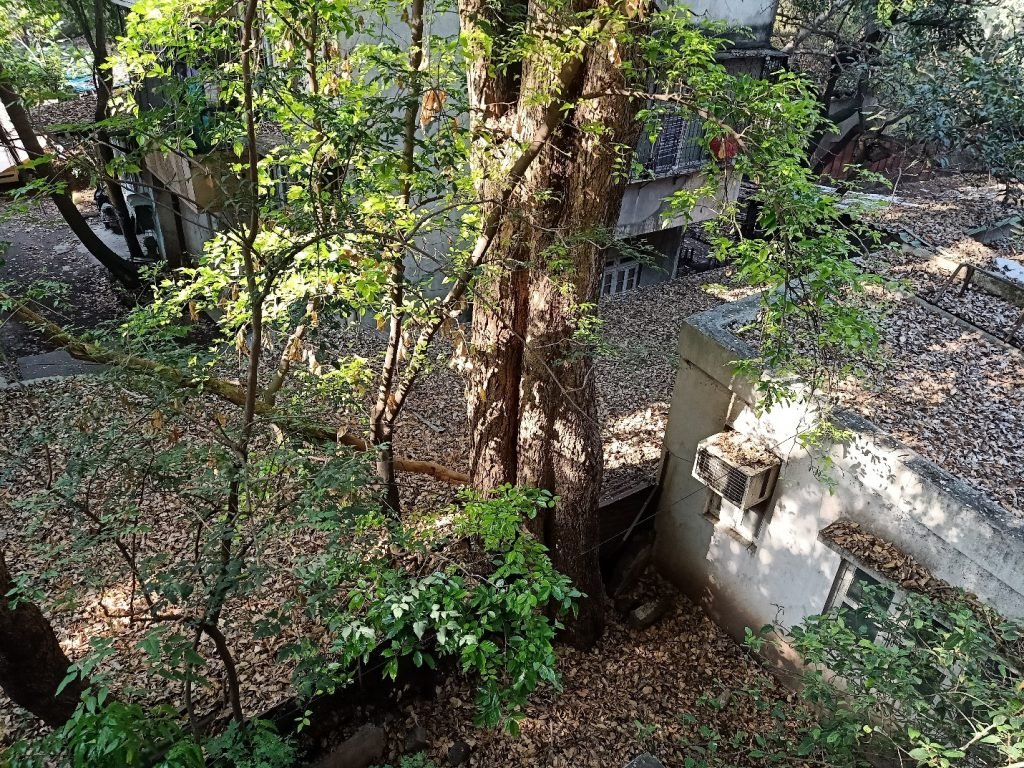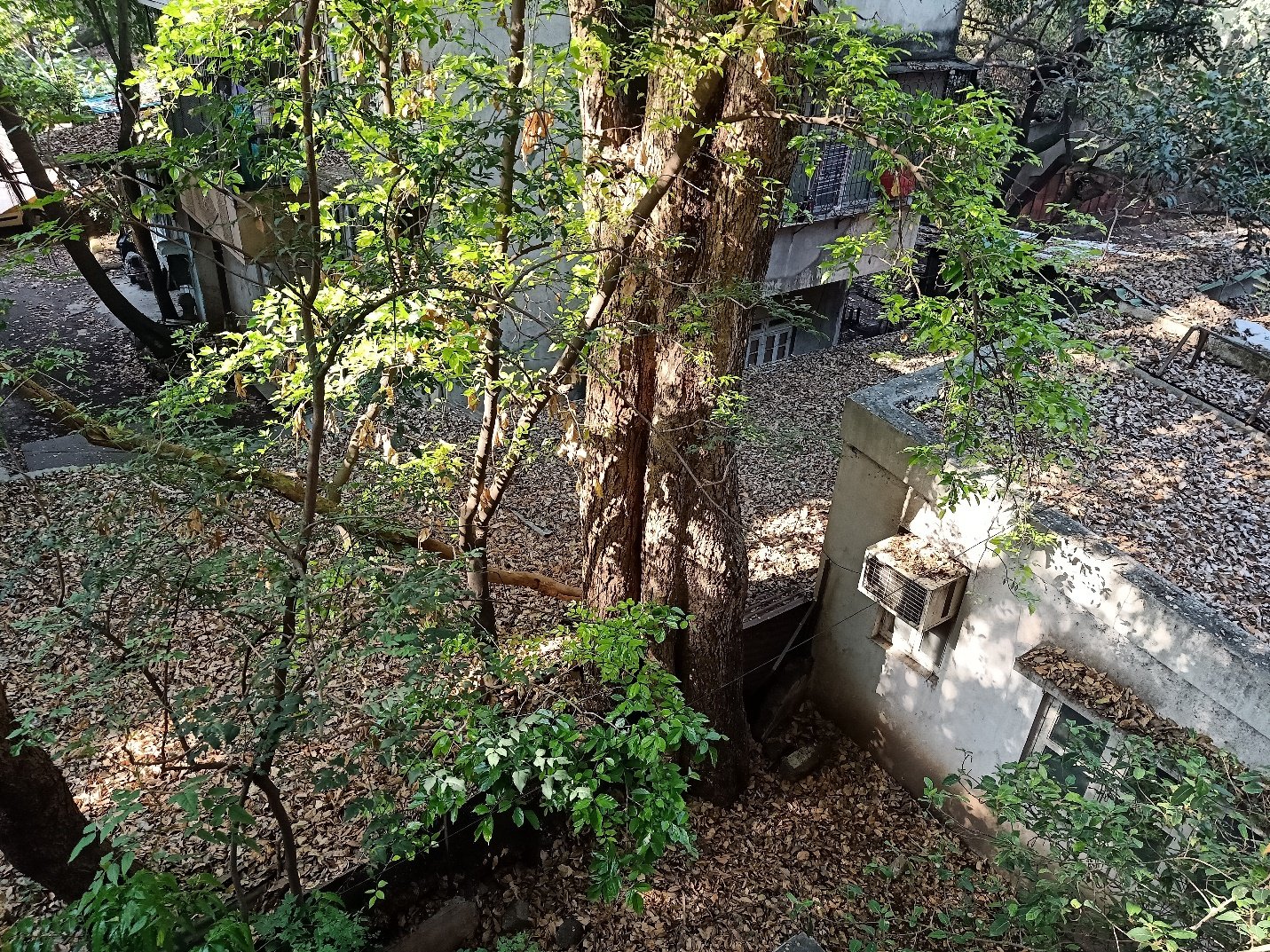 I have a huge monkey biscuit tree – वावळ (Holoptelea integrifolia) in my building premises. Till 5 years ago, we used to do the same thing. I felt burning of leaves is wrong because leaves are biodegradable, they would decompose and eventually go back to the soil. I decided to put stop leaf burning in my building. I instructed the lady who sweeps the premises, not to burn the leaves.
I was happy that I have accomplished my goal. About after a month, the lade came to me saying that there is a large heap now and we need to do something about it.
I realized, asking people not to burn leaves is not sufficient, we need to provide an alternative.
What was the alternative? Honestly, I had no idea.
In a desperate attempt to find some solution, I drafted a msg and shared on all whatsapp groups.
A lady, Sujata Naphade replied to my message. She resides in a bungalow society. She owns a plot where she cultivates vegetables, for her, her brother and brother-in-law's family so that they can consume toxic-chemical pesticide-free vegetables.
This plot was used as a dump spot for many years. With all the construction debris, there was virtually no soil left. Sujata was creating much-needed organic matter using dry leaves.
She promised she can take away every single leaf my tree sheds. In fact, her requirement was even more.
As a starter, I collected dry leaves in 5 gunny bags. Next day, Sujata came and collected those bags.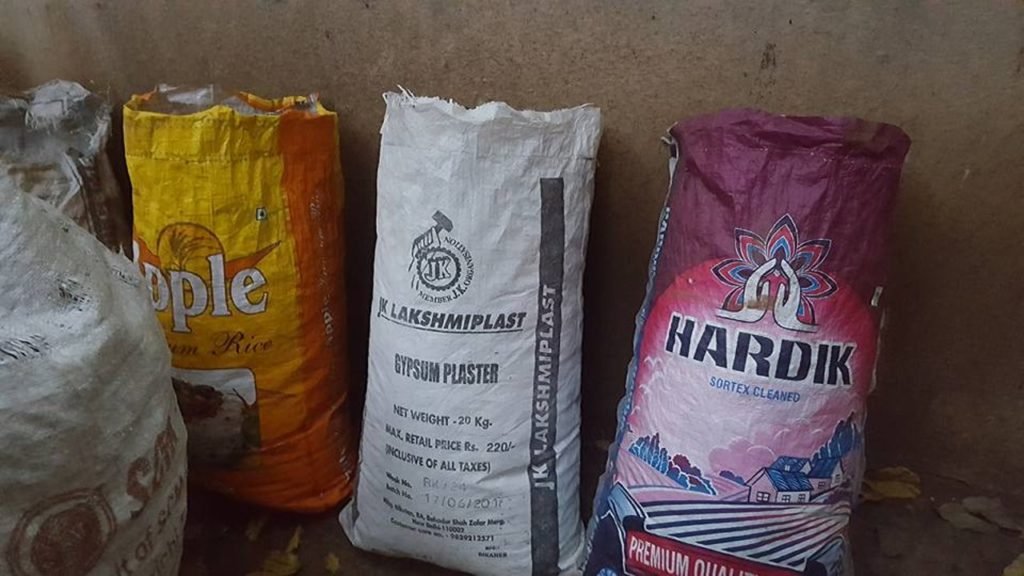 I was curious. Dry leaves were a huge headache for me. And here, this lady came all the way to take away those leaves.
I visited Sujata's garden. That visit and subsequent discussions with her were an eye-opener. Till now, my only consideration was dry leaves are biodegradable and hence they should not be burnt. But now I came to know how useful they are.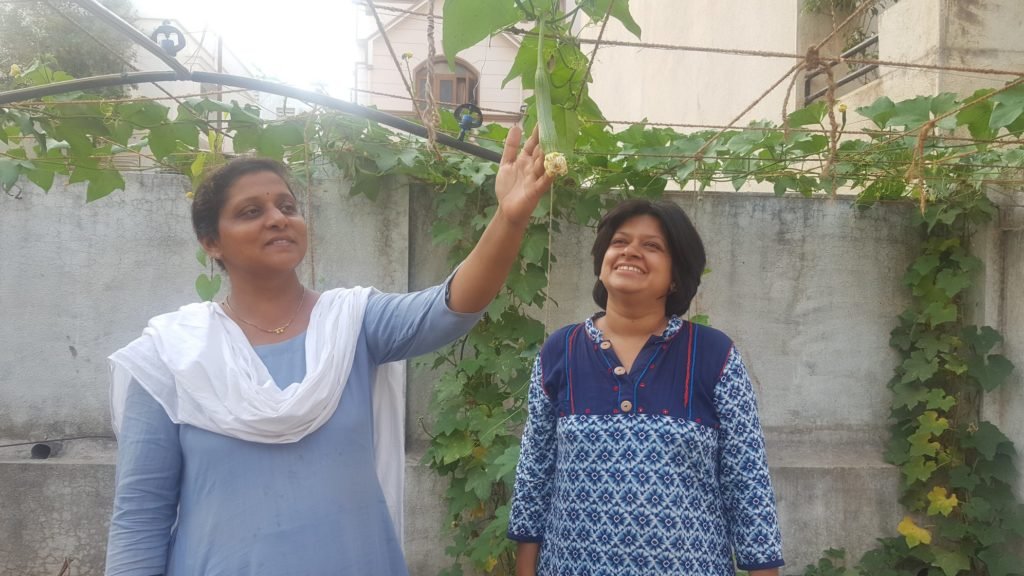 With this realization, I talked to many people like Sujata. There is a growing trend towards gardening and terrace gardening in the cities. Pune and Bangalore are pioneers in this. Other cities seem to follow the suite.
As you know, in the cities, space is the biggest constraint. Very few lucky ones have a garden around their house. Majority of others utilize their balcony and terrace to cultivate garden.
The challenge for balcony and terrace garden, is where to get the soil from?
Buying soil is not financially feasible. And it is not ecologically advisable as well. When we transport soil from one place to another, we deprive that area of the soil.
So, what do these gardeners do?
They utilize compost made of dry leaves and kitchen waste. Sometimes along with soil, if it is available and sometimes completely without soil.
These gardeners are in constant need of dry leaves.
So, there are people who have dry leaves and there are people who want dry leaves. It is a classic demand-supply situation.
That was an eureka moment for me. I realized, if we can connect these 2 types of people, we can prevent lot of dry leaves from burning.
With this idea in mind, I immediately created a very basic, free website and a facebook page. I drafted one message and circulated it on whatsapp groups.
The response I got was phenomenal. People liked this concept. I got messages from leaf-donors and leaf-takers both. It was a validation that my idea had takers.
Since its inception in February 2016, Brown Leaf forum has enabled exchange of around 50,000 bags of dry leaves. With leaf-donation, it is again a circular system, a bit modified, but still circular.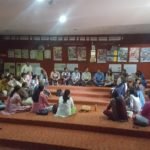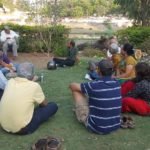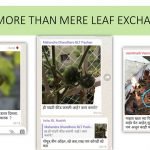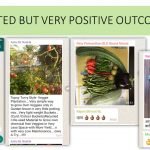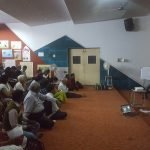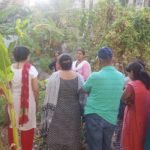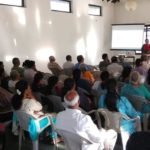 Now, Brown Leaf is not a mere leaf-exchange forum. Seeds, saplings, ideas and advice is shared on the group. It has become a collaborative community now.
First, let me assure you, we understand your challenge. We have been there. Don't worry, we are here to help. 
We have developed resources to help you manage dry leaves in eco-friendly manner. 
We have a guide in PDF format that you can download. 
If you like video format, then you can check our series of 15 videos. 
Both these resources cover the following, 
Why trees shed leaves 
What happens in natural landscape 
Why is it a problem in the city
Why we should not burn dry leaves 
What are eco-friendly alternatives i.e. the solutions
Download guide or watch video series, here, RESOURCES
If you feel you still need more guidance, if you feel you need our help, then we have a paid online course. 
Details here, ABOUT THE COURSE
We can also help you prepare a plan for your premises. No matter where you are located, you can avail this service and consultation.
We will take a tour of your premises, actual tour if you are in Pune city, a virtual tour otherwise and devise a plan customized for your situation. 
Plan will suggest strategies for different areas within your premises. 
e.g. Where you can let nature do its work, where you can set up composting, which composting method is ideal for you.
We will achieve this through video conference with 
You and the society management committee
Your housekeeping staff 
Details, DRY LEAVES MANAGEMENT PLAN
REMEMBER, WE ARE JUST A CLICK AWAY
If you still have a query, feel free to write to us.
Or if you just want to say Hello, why not 🙂 
You can reach us at pune.brownleaf@gmail.com
We are happy to conduct webinar for your group/ institute/ organisation. 
Webinars provide us a great chance to interact with wonderful people across India. We have conducted webinar organisations at Delhi, Chandigarh, Goa, Bangalore etc. 
A glimpse,  
I on behalf of the entire DAV College community and on my own behalf would express my heartiest gratitude to you for delivering a wonderful talk in a very lucid manner and explaining to us the importance of leaf litter. All the participants were mesmerised by your talk which has been reflected in their feedback forms too. The real astonishment to each one of us was that you having such diverse background are working so deeply in the field of ecology. Hope we will have chance to have more such interactions and collaborations in the future. Please find attached e certificate of appreciation. Thanks
thank you Aditi Deodhar for doing that session with us! your passion and commitment to Jeevitnadi and managing brown leaf shone through your session with us!🙏
We learnt so much from you and you do have a flair of connecting with people

Click on the image below for recording of the session,
My garden was completely parched dry and most of the plants seemed dead. I had lost hope of any revival. I turned to Brown Leaf group for experts advice . They told me not to give up and continue taking care and watering the plants. I lost some of my plants but I noticed that the plants I had mulched ,survived and are thriving till today.
I was having my breakfast with a weekly dose of Scroll.in's Eco India video. The video said 'A Pune woman is making sure waste is not wasted'. Dried leaves are so omnipresent in our daily lives, be it urban or rural yet we just tend to ignore them. But after watching the video I just couldn't ignore it anymore. The idea of mulching was so simple yet had such a powerful impact on the environment
I m living in village raw material i arrange from my garden dry leaves i also add green weeds green leaves and paddy waste etc. mam ur posts encourage me time by time i saw these and result in front of u. thnks mam ur role model for me hope for continue ur good work
We have a wonderful Brown Leaf community Pune city. From our experience, we know how lonely the efforts can get. 
Building a community around the clause is vital for continuity of our efforts. 
Would you like to do that in your city? 
We are soon coming with resources to help you do that. Watch this space for updates. 
Or LIKE our facebook page for updates, BROWN LEAF ON FACEBOOK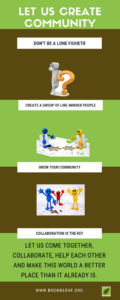 Entire Brown Leaf Community for their constant support and encouragement.
Kirti Wani and Shailaja Deshpande for encouragement and guidance