For dry leaves, mulching and composting are two best strategies.
For details please visit..
Here is a brief about both…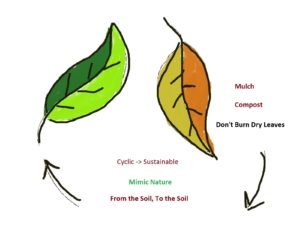 Mulching is mimicking what happens in nature.
Whatever falls on the floor remains there.. Shed leaves form a carpet, layer over the soil.
This layer remains as it is throughout the summer.
When rains arrive, leaves decompose. Some proportion of nutrients that the tree absorbs from the soil are present in these leaves. These nutrients, when leaves decompose, are returned to the soil.
Soil keeps receiving organic matter and retains its productivity.
Here is how we do it….
Take a handful dry leaves.
Crush a bit with your hands.
Place those leaves in the plant bed/ pot, covering the soil completely.
Composting: It again involves mimicking nature, albeit in a modified way.
We collect leaves and compost them at a convenient location.
If at all these two options are not possible.
Or sometimes, even after composting, large quantity remains.
What we do?
Here is the 3rd option. This is the option that distinguishes Brown Leaf.
Third option is "Donation".
Exchange of dry leaves from the people who have dry leaves to the people who want dry leaves.
Who are these people who want dry leaves?
There is a growing trend towards gardening and terrace gardening in the cities. Pune and Bangalore are pioneers in this. Other cities seem to follow the suite.
These gardeners are in constant need of dry leaves. As donors wonder what to do with dry leaves. These takers too have similar problem. Where to get dry leaves?
What if we connect these two people? Done!! Problem is solved, right?
How to go about it?
In Pune, we have formed a whatsapp group. This group comprises of both, the leaf donors and the leaf takers.
In the leaf fall of 2017, all these group members together exchanged around 5000 gunny bags of dry leaves. Remember, if not for Brown Leaf forum, all these leaves would have been burnt.
Along with individual gardeners, following are some examples of unique leaf takers.
Millennium School in Pune has developed a vegetable garden for its students using canteen waste and dry leaves. They cultivate all kinds of vegetables, fruits in this garden. An organisation nearby has a lot of leaf litter. I suggested them the model of partial compost and donation. Surplus leaf litter was collected by school from them and from a few other sources. The vegetable garden till now has utilized 20 tons of dry leaves which otherwise would have been burnt. Mulching is the process of crushing leaves and spreading in the plant bed. Because of this layer, soil retains moisture and water gets conserved. This vegetable garden has conserved around 80% of water due to dry leaf mulching.
A farmer cultivates organic vegetables using leaf mould. I got him connected with an institute and a few large societies that had surplus dry leaves. All that leaf litter he got helped him cultivate and harvest very healthy vegetables. He shared photographs with the whole Brown Leaf group further emphasizing usefulness of dry leaves.
There are two groups, Vasundhara Abhiyaan and Vasundhara Swachhta Abhiyaan working for greening of hills in Baner, Pashan and Sus area of Pune. These hills are barren. Soil is eroded. Buying soil is very expensive. They use dry leaves to create organic matter. Dry leaves are also used for mulching for young plants. Since soil retains moisture, it increases chances of survival for the young plants, especially in summer months. Getting such a huge quantity of dry leaves is a challenge. I connected societies that had surplus leaves after composting with these groups. Hills received truckload of dry leaves which are helping plants survive.