Garden set up in the school premises, uses nirmalya from 2000 households. Organic matter goes back to the soil, nourishing it. It reduces stress on the river. 2000 students get connected, 2000 households become aware of environmental issues.
Students bring nirmalya bags to school. No separate transportation is required.
Nirmalya is collected and put in the school garden.
Students witness beautiful garden blossom. No need of convincing/ policing. Result is right there.
What is nirmalya
Nirmalya comprises of flowers, fruits, leaves, rice and like offered to the God. It is not considered garbage or waste. Hence though it is wet-waste, it is not thrown with other kitchen waste. For its disposal, traditional practice was to immerse it in the river.
Why is it a challenge?
In the times when this tradition emerged, it did make sense. Rivers, then were flowing. Nirmalya, being completely bio-degradable, rivers could easily digest it.
Now, almost all rivers in India are dammed. Water is blocked in the dams and hence river has no fresh water, except for the 4 months of monsoon.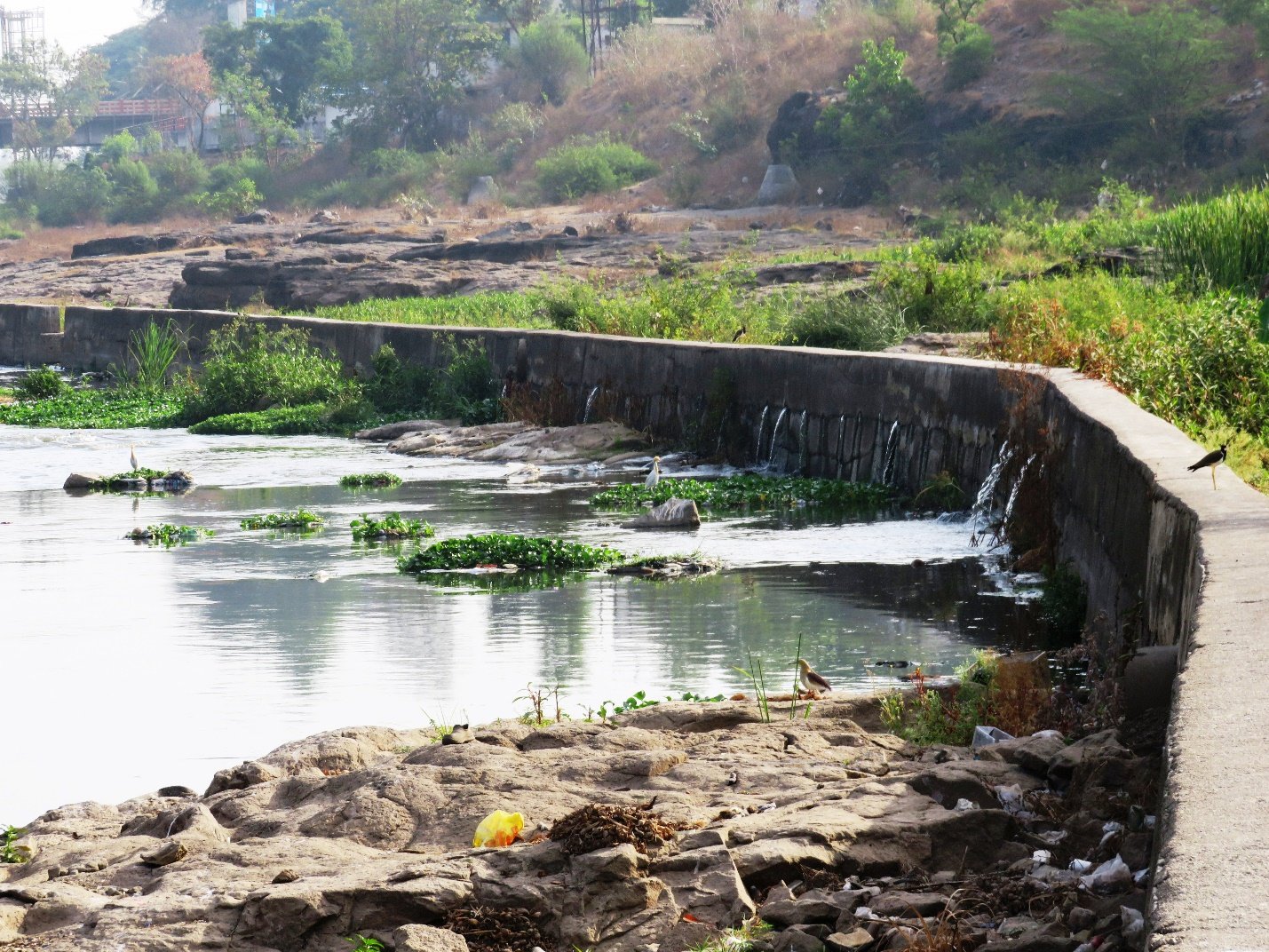 In cities, often untreated sewage is let out in the river. In most of the cities, rivers are flowing only because of sewage.
Due to lack of fresh water, there is not enough Dissolved Oxygen (DO) in the river to process the organic matter.
Note: The same oxygen that is used by fish and other aquatic animals. That's why we don't find much fish and other aquatic fauna in urban rivers.
Lack of oxygen makes process of decomposition anaerobic and as a result, methane gas is released. Methane is one of the greenhouse gases contributing to global warming. It also has a foul smell. That's why rivers in cities stink.
Population has increased multifold, compared to our grandparent's time. Quantity of nirmalya coming to the river is much larger now, than it was then.
Increased nirmalya and reduced river capacity to process it, puts stress on our rivers.
What is the way out?
Follow Soil to Soil Principle.
Concept of waste does not exist in nature. All processes are cyclic. Output of one process serves as input to some other system. Resources are used and re-used. It goes on forever, there is no end and there is no waste.
Everything comes from the soil and everything goes back to the soil.
Why not adopt this principle? Let nirmalya go back to the soil. It will provide soil with organic matter, make it fertile. At the same time, it will reduce stress on our water bodies.
Agree, Nirmalya is not the only stress on our water bodies. Untreated sewage is much more serious and damaging problem.
So, what do we do? Wait for civic bodies to treat the entire sewage and we do not do anything?
That's not fair, is it? Why not start doing something which is in our control? Start making difference at the scale possible for us?
That's what 2 teachers at a school in Pune thought.
About Nirmalya project in school
Let's visit Ahilyadevi Prashala, one of the prestigious schools in Pune city. It is in Shaniwar peth, a highly populated neighborhood in Pune city.
This school has glorious tradition of 80 years. School came into being before Independence.
Shubhada Rajguru, Poonam conduct various activities as part of eco-club in the school. Idea is to bring girls close to nature, make them wonder, encourage them to ask questions and learn in the process.
School has a court yard and terrace. Terrace receives a lot of sun light. As a result, concrete heats up and so do classrooms on the top floor.
Why not make use of sun and empty terrace? Shubhada and Poonam with encouragement from the school principal Mrs. Sulabha Shinde, began to explore.
They bought old paint buckets, drums. They bought bricks for plant-beds and compost pits.
Did they buy soil? Not at all.
You can grow plants if you can provide them nutrients they get from the soil.
They created plant-beds in the courtyard and on the terrace using dry leaves. Where did they get dry leaves? From a person who had them in large quantity.
(For details about dry leaf donation, do read https://brownleaf.org/donate/. You can start this activity in your neighborhood/ city).
Dry leaves provide organic matter. But dry eaves alone are not enough. Microbes need Carbon and Nitrogen for survival and growth. Dry leaves contain carbon. They needed a source of nitrogen.
Guess what? Yes, you are right. Nirmalya would provide them much needed nitrogen.
Kitchen waste is also a rich source of nitrogen. But what Shubhada and Poonam had in mind, nirmalya would be more practical.
What is the Plan
There are around 2000 students in the school. In most households, daily pooja is performed. These are the households that generate nirmalya almost daily.
At others, pooja is performed for festivals, like Ganesh festival, Navaratri, Diwali etc.
Daily or occasionally, all of them generate nirmalya in some quantity.
As we discussed, best way to utilize nirmalya is to let it go back to the soil.
How exactly is it done?
Students are partners in this project. They encourage parents to keep nirmalya separate in a bag, with no plastic, no paper in it. It reduces efforts in segregation since it is stored separately at the source itself.
Everyday, while coming to school, students bring niramlya bag with them. Cooked food when kept for some time, produces foul smell. That is not the case with nirmalya. So, it is not unpleasant for students to carry it.
At school, after prayer and assembly, nirmalya is collected, bag is returned to the students. Same bag is used to store nirmalya the next day.
Garden blossoms, 2000 households can dispose of nirmalya without polluting river. Everybody is happy. What more one would want? WIN- WIN situation for all.
Why it works?
Do you know, segregation (rather lac of it) is the major challenge for municipalities. A few years ago, Pune Municipal Corporation placed "Nirmalya kalash", the collection containers at strategic locations by the river and on the bridges. People hurl nirmalya from the bridge into river. So having kalash on all bridges made sense.
Vegetable garden on the school terrace
This initiative was received with a lot of enthusiasm. Nirmalya was collected from all the 'kalash" everyday and taken to facility for composting. Many people were sincere enough to deposit only nirmalya.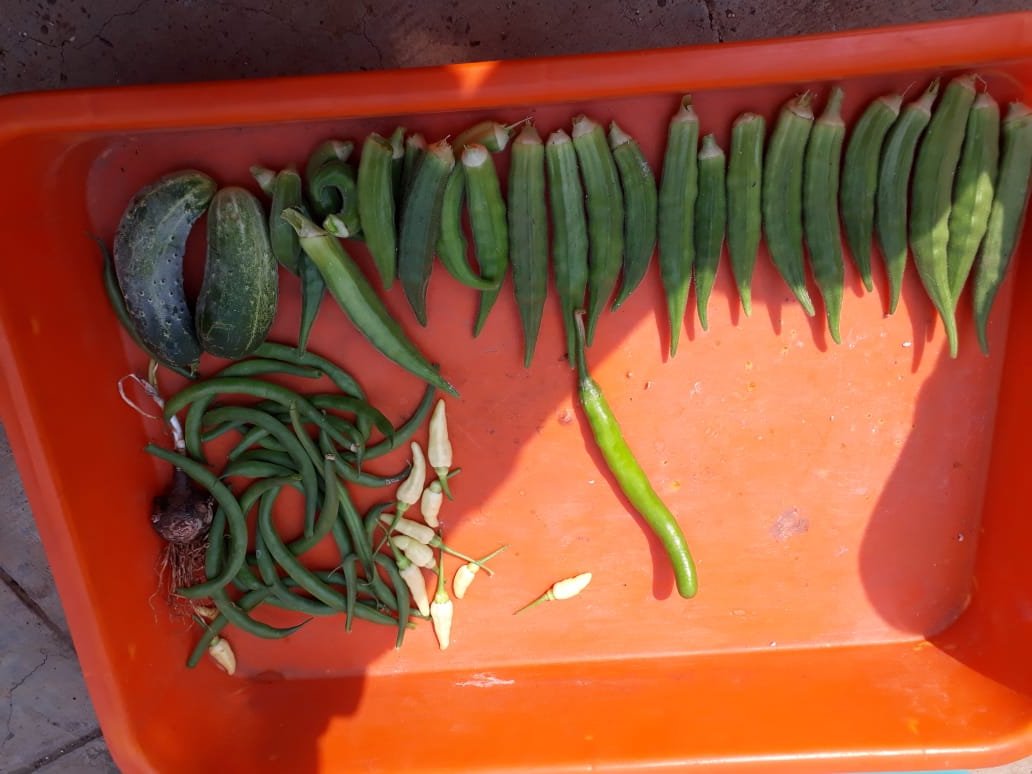 Nirmalya today is not all biodegradable. Thermocol is used in flower garlands, haldi-kumkum is packed in plastic bags, camphor is sold in plastic containers. At home, nirmalya is stored in plastic bags, before disposal. Hence, even when pure nirmalya was deposited, it was not all compostable. And then, not all are sincere. Lot of household waste, kitchen waste, waste from illegal eateries started landing in the kalash.
It put stress on already stressed, over-stretched solid waste collection system of PMC. And this initiative, started with good intentions, welcomed by good intentions, had to be shelved.
This school project very wisely steers away from this challenge. We can say they have designed the project by learning from failure of other similar projects.
Storing nirmalya separate, saves efforts in segregation.
When option is provided, people are willing to do their part. You go one step closer, they too will follow the suite.
If such projects are adopted in all the schools, we will be able to manage the challenge of "solid waste" efficiently, while keeping our rivers and streams healthy.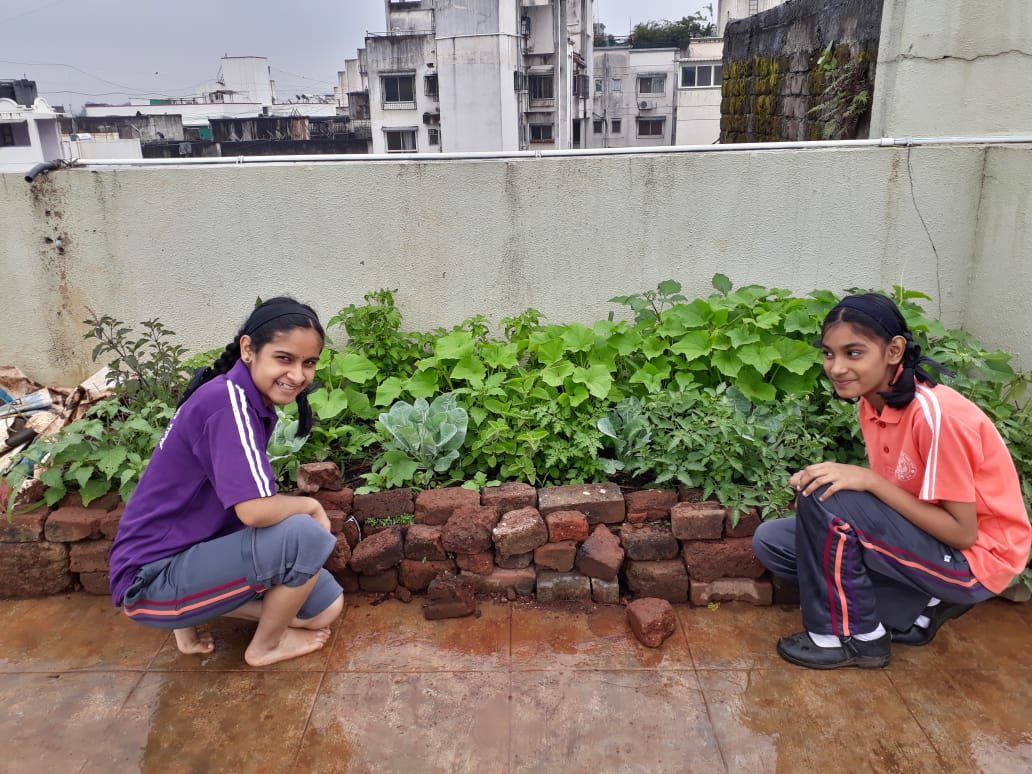 Fresh vegetables and happy children. What a sight!!
If gardening is not possible, schools can go for "composting" projects. Let students pack and sell the ready compost. They will gain experience in business, record-keeping, accounting.
Concluding Words
Is it merely about nirmalya collection?
No. They are creating responsible citizens, who are sensitive towards environment. They are our future architects, town planners, political leaders, artists, policy makers, engineers, doctors. Whatever profession they choose, they will always carry these values, inculcated in the formative years.