Suchitra and Shirish Diwan
Mr. and Mrs. Diwan reside in a lush green locality in Pune city. They have developed a beautiful terrace garden. Thankfully for them, their close family occupies the whole building; so, they did not face challenge of opposition from neighbors.
Of course, that was the only easy part. Through this blog you will find out tremendous efforts put in by this couple. It is like a mini-forest in the heart of the city. You know, for the fruits on the trees, they both can actually say that it is the fruit of their labor. Their hard work and dedication are unmatched.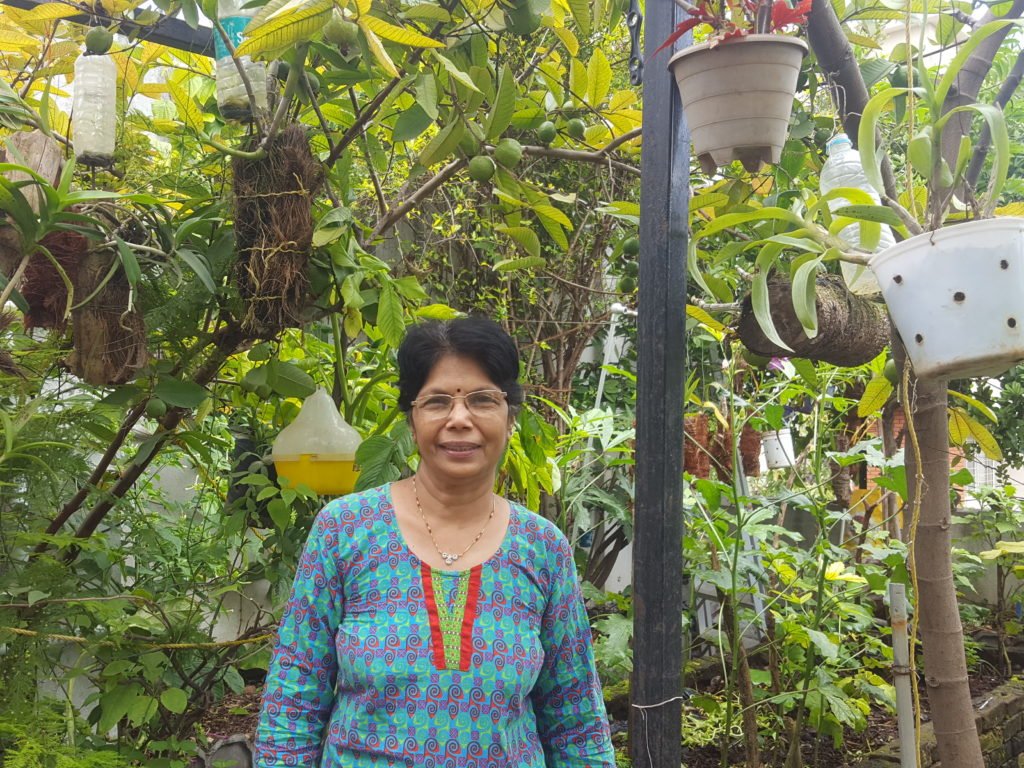 Suchitra Diwan in her terrace garden
Here is why and how Diwans started developed terrace garden
They always loved plants and residing on the top-floor, terrace garden was the obvious choice.  
Since they had decided to develop the garden, they got waterproofing done from the builder at the time of construction. This consideration was incorporated at the planning stage of the building. They both stress that due to this, they never faced any leakage in all these years.
Like any other project, deciding objective is necessary for terrace garden. Here we do not have acres and acres of land at disposal. Hence to get maximum out of a few hundred sq. feet, we need to decide exactly what we wish to cultivate.
For Diwans, vegetables, fruits and various herbs were must. Orchids is one of their passions and hence a special corner is devoted to Orchids in the terrace garden. They have got a few varieties from their trip to North East.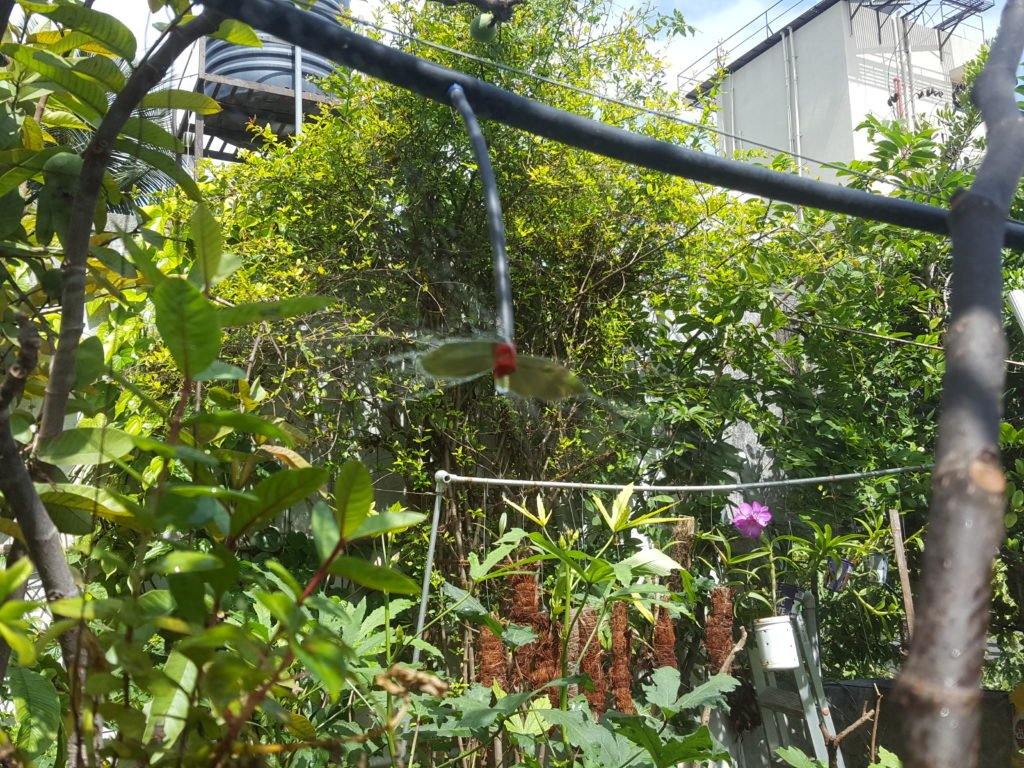 Their garden comprises of plant beds, containers, hanging baskets, vertical garden containers, orchids on hanging trunk pieces/ tender coconut base.  
Plant beds are demarcated with bricks. They are simply placed on top of each other. No cementing is done. This provides aeration.
For soil-less gardens, some planning before-hand is necessary. Visit to nursery to buy plants and seeds is very exciting. But unlike soil garden, here we need to prepare compost before we can start plantation or sowing.
How do Diwans prepare compost?
Early in the terrace garden development, they adopted vermiculture method for composting. This is how they prepare the compost. Dry leaves + kitchen waste + earthworms. Worms are needed only in the initial stage.
They used to make compost in the pit, bordered by bricks and used to add ready-compost to the plants. After almost 20 years, they do not need a separate composter. Now, all the plant beds and containers have such a fertile soil and healthy dose of earthworms, that they themselves act as composter. All one needs is keep adding dry leaves and kitchen waste.
Preparing Plant Beds and Containers
Place thick plastic sheet (300 microns) at the base
Create rectangular boundary on 3 sides by placing bricks
Height of each bed is 3/4 rows of bricks
Bricks should not be cemented together, but are simply placed on top of the other to allow aeration
Add compost, do mulching with dry leaves (mulch link)
For container/ pots
Process is similar as with the plant bed.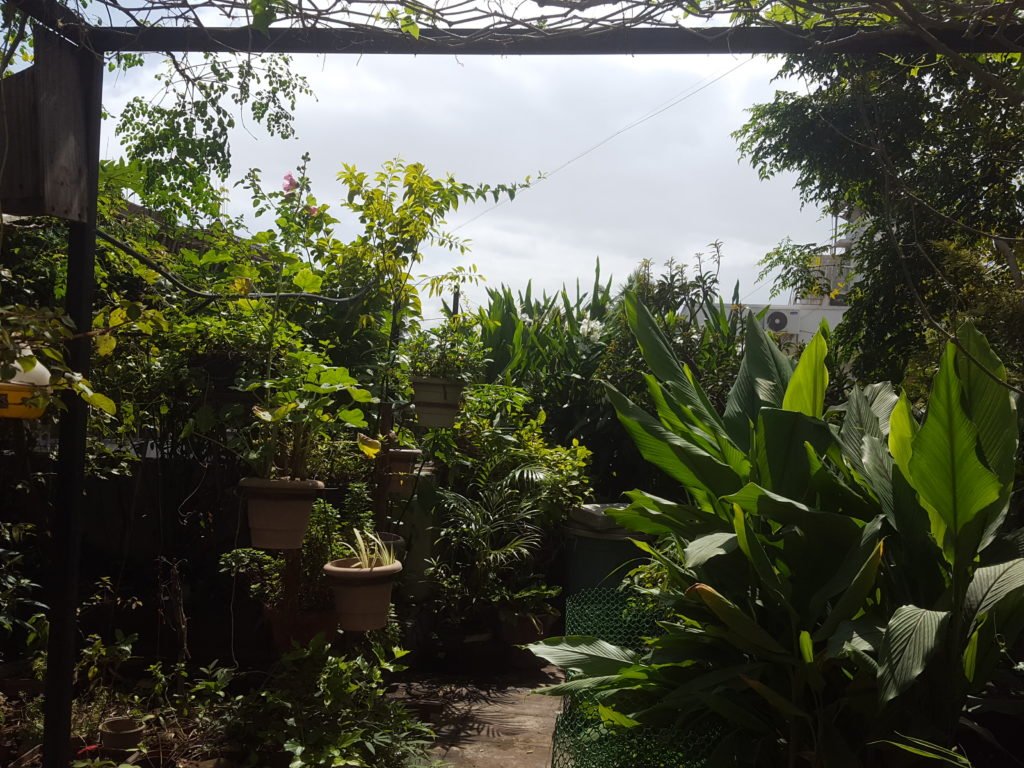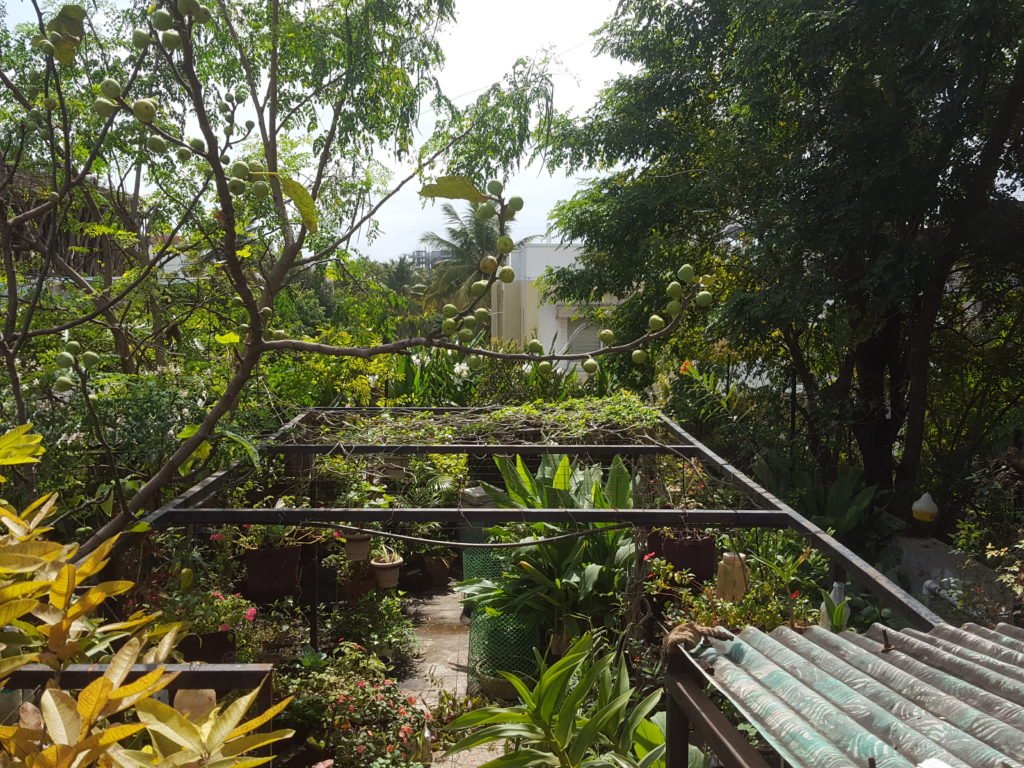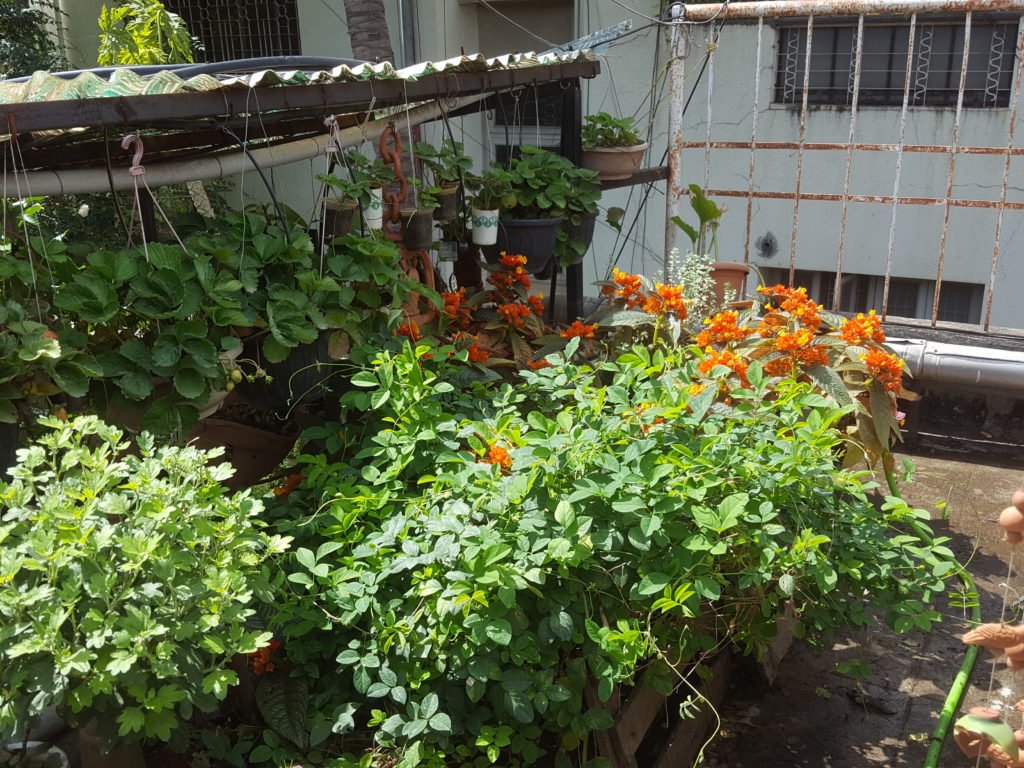 In tropical regions, deciduous trees shed leaves in winter. Leaf fall starts around November and continues till June. Dry leaves is challenge for people. Often dry leaves are burnt since that seems a convenient option. At the same time, there are people like Mr. and Mrs. Diwan who need dry leaves for compost.
Why not bring "availability" and "requirement" together? That is what Diwans do. They collect dry leaves from apartments, societies nearby who have trees. It is a permanent understanding between leaf-donors and them. Donors collect dry leaves in gunny bags and inform them.  Diwans then collect those gunny bags. In last 2 years, They have utilized around 200 gunny? bags of dry leaves this way, which otherwise would have been burnt or dumped. For details of this initiative, HOME
Their garden is completely chemical-fertilizer-free. They use jeevamrut (cow dung + cow urine + gram flour + jaggery) to boost microbial activity in the soil. Jeevamrut and Neem oil spray on plants act as pesticide.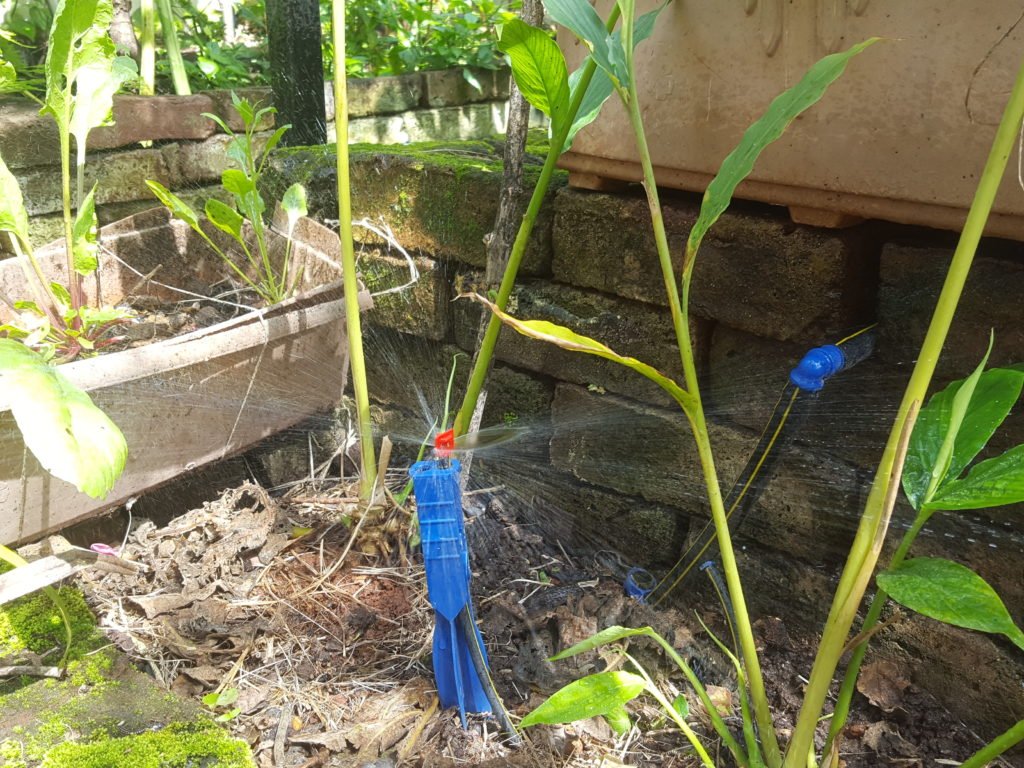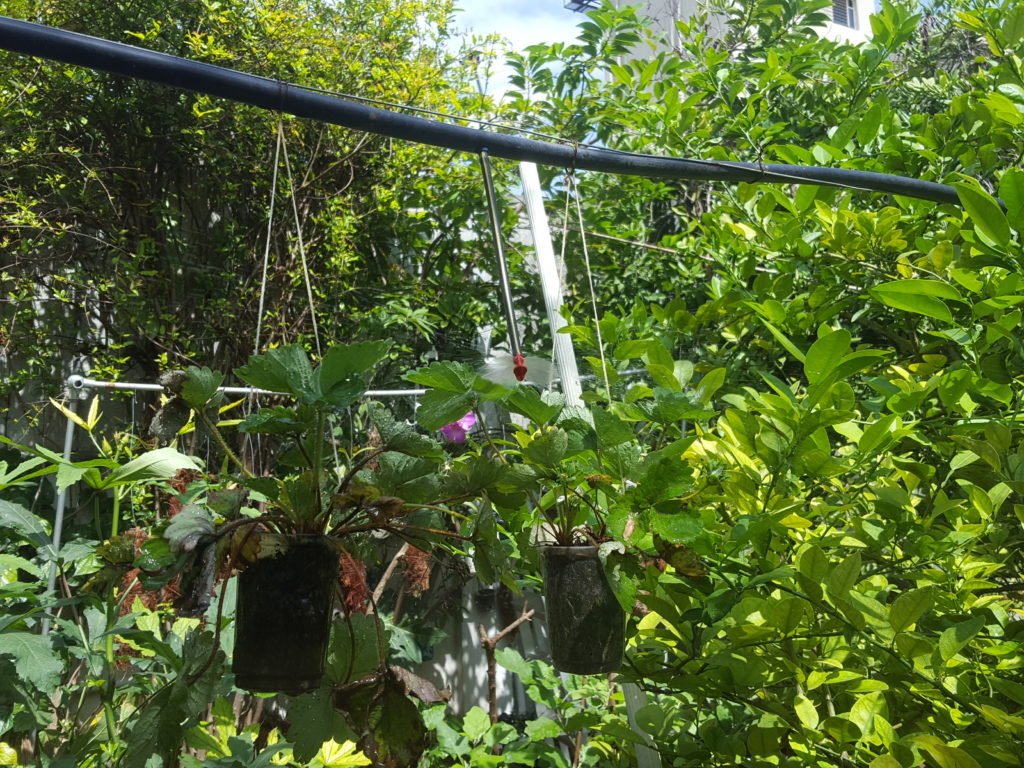 Strawberry plants getting a nice bath from the sprinklers
White grubs is the challenge. (This is the challenge faced by almost all gardeners. We will discuss reasons and solutions in subsequent blogs.)
Also, majority of fruits are devoured by birds. But Diwans do not mind that. They are happy to share their garden with the feathered friends.
Grey Hornbill feasting on figs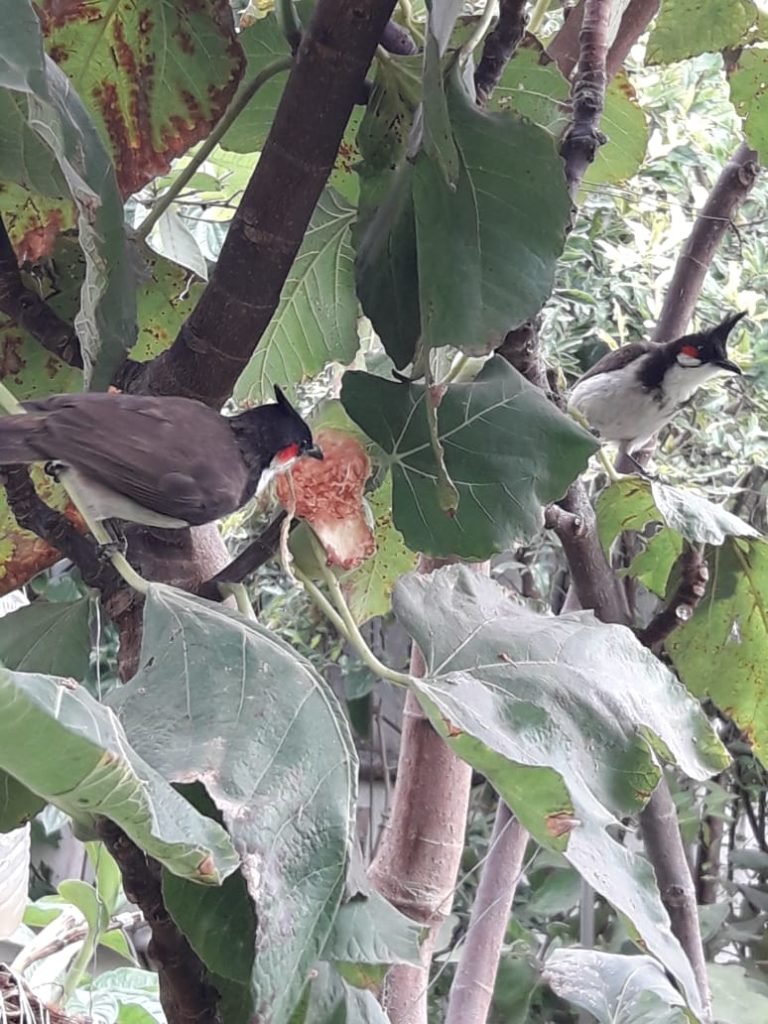 Pair of Red Whiskered Bulbul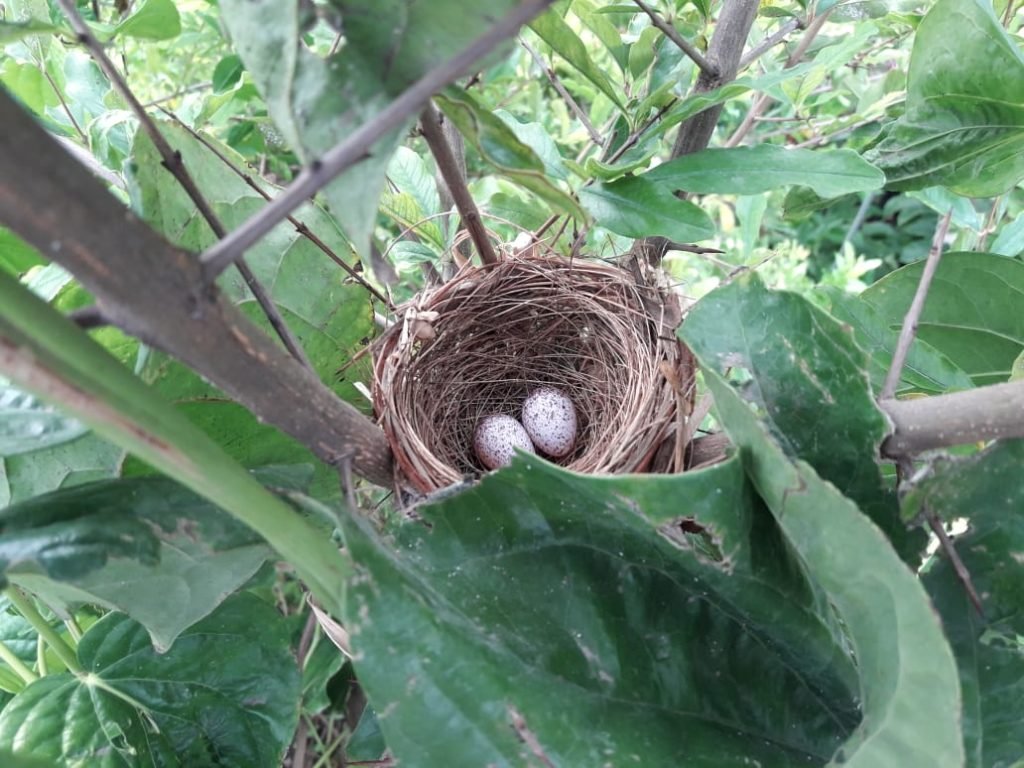 Produce from terrace garden
Vegetables
White Gourd, Ridge Gourd, Pumpkin, Coriander, Spinach, Fenugreek, Lettuce, Radishes, Tomato, Brinjal, Drum Sticks, Lemons, Sweet Lime, Sweet Potato, Onion, Ginger, Cauli Flower, Cabbage
Fruits
Guava, Pomegranate, Watermelon, Muskmelon, Fig, Papaya, Strawberry, Banana
Flowers
Orchids, Jasmin, Rose, Mogara, Dahlia, ornamental flowering plants
Lettuce in vertical garden container
Vertical garden using PVC pipe
Last year, a student of architecture carried out a study to check cooling effect of terrace garden on the house below. Diwan uncle's brother stays in the next flat, on the same floor. They have kept the terrace as it is there, so that whole family can gather for functions and get-together. Temperature of the room below that terrace, with no green cover, and the room below the terrace with garden, were compared. She observed that there was 5-6 degree Celsius difference in two rooms, in the summer months.
Diwan's terrace is a haven for various birds, butterflies, honey bees and a variety of insects. Their house is cool at the height of summer, their family gets toxic-chemical-free vegetables, they utilize dry leaves which otherwise would have been burnt, they have created habitat for various fauna right in the heart of the city.
A Green Paradise!!