Does waste exist? Mostly in our mind. Yes, think about it. Waste is waste only if we think it is. In this blog, Sonali tells us about her terrace garden, and how she "upcycled" the waste.
Her blog makes us re-think the very concept of waste. As we said above, waste is waste only if decide so. Else, everything is a resource.
Sonali's blog provides a brilliant roadmap for a zero-waste building -> community.
Garbage/ waste/ scrap/ discards/ leftovers – this has been a big part of my life since at studio Alternatives, we are involved in upcycling all kinds of discarded material.
While dealing with this topic, the most crucial factor is how we deal with waste at source. Once we mix up waste it is a near impossible task to then have any foolproof solution to address any form of reuse or recycle.
Almost 50% of the waste from household is wet waste and the worst part is the contamination that is done by throwing wet and dry waste together. Once the moisture dries off the actual volume of wet waste reduces considerably and is not as humungous as is perceived.
My aspirations to start terrace gardening by composting wet waste has quite a few motivations. Primarily it has been about dealing with waste at source and gaining experience first hand to know all its aspects.
I reside in an apartment complex and together with my neighbor Archana, we decided to start off this project around last summer. We took guidance from one of our friend, Rupali, who has been doing terrace gardening for over 15 years now.
The list to start off the project included
Half cut barrels with adequate holes

Twigs/ coconut husk coir part/ Dry leaves

Shen khat (cow dung manure)

Sugarcane bagasse

Compost powder/ sour buttermilk

Earthworms

Wet waste from kitchen
The barrels were layered with twigs/ coconut coir at the bottom and then layers of other ingredients that were mixed well. We introduced earthworms at a later stage when the composting had already begun.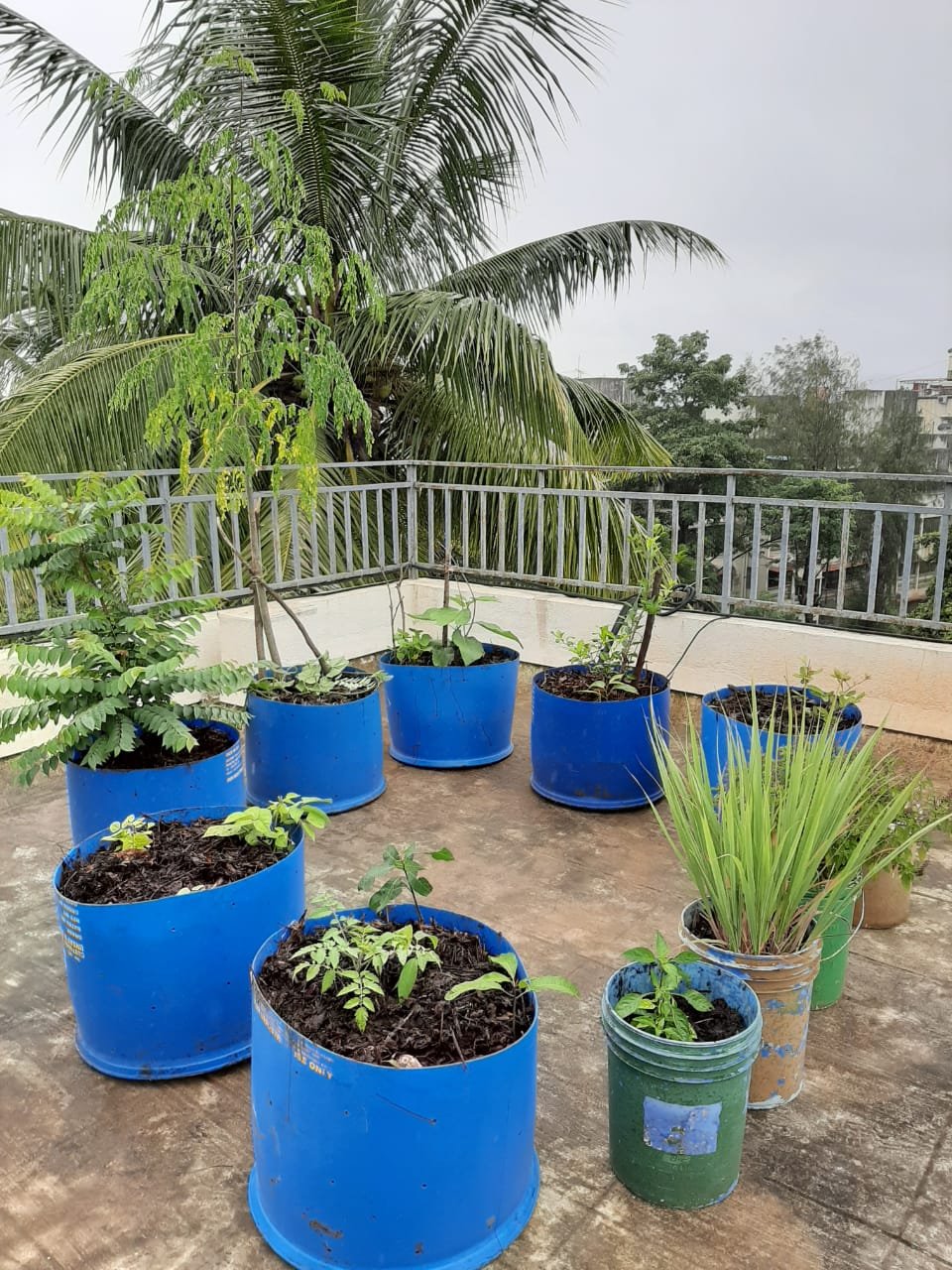 We planted various trees in all the barrels – Awla, banana, Mulberry, Shevga (Moringa), lemon etc along with many flowering varieties such as jaswand (Hibiscus), parijatak, jai, jui, mogra etc.
On having planted trees in the same barrels we have found the composting process to be extremely fast and efficient, perhaps because we are creating a cross section of soil formation that actually happens in nature, there are aspects that are accelerating on their own. Barrels in which we are composting without trees have shown a slower process in comparison.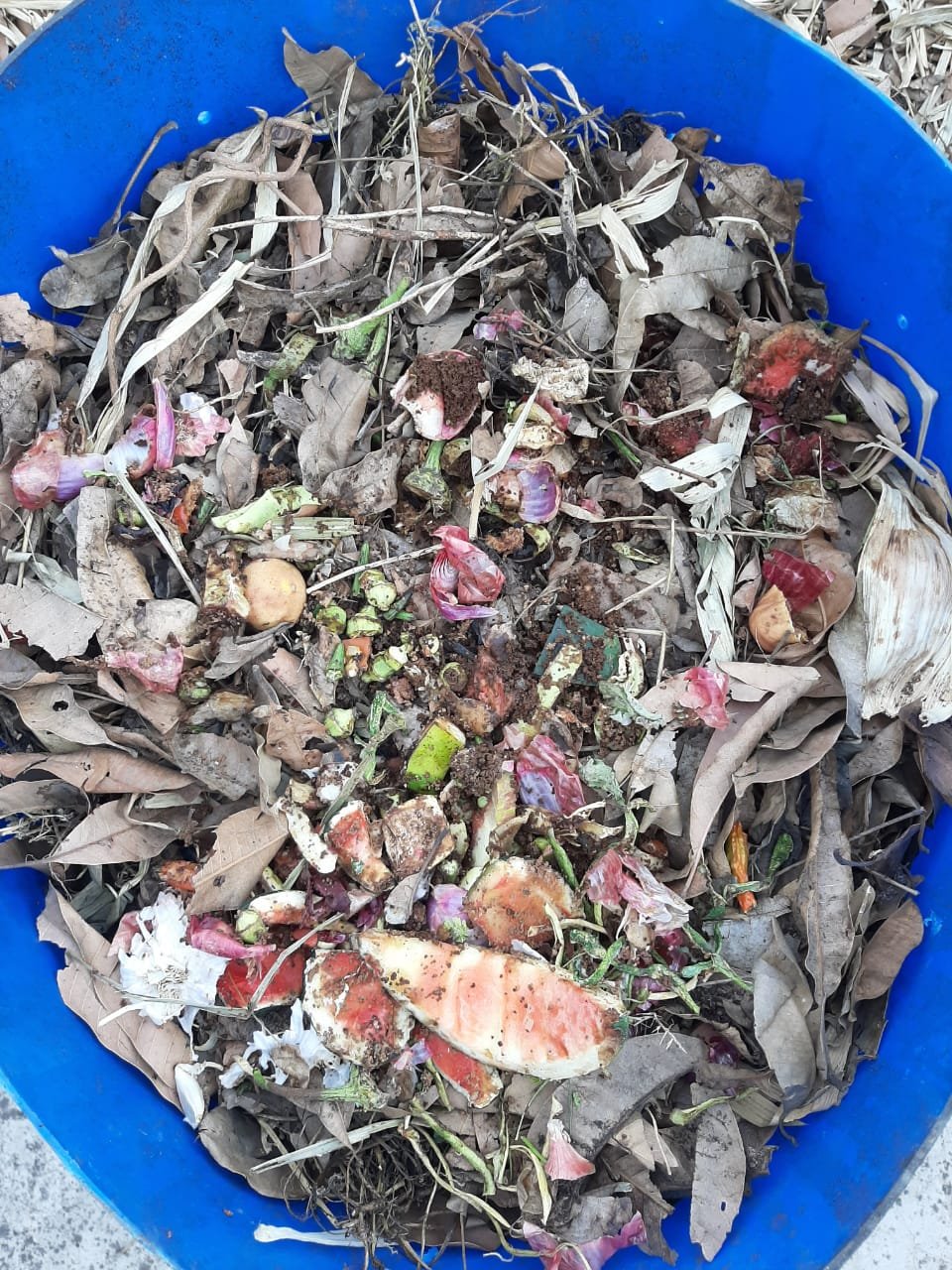 A lot of technical literature is available on terrace gardening and I urge all readers to look at many interesting examples. I personally strongly feel the success of this project is to the fact that on the terrace there is ample of sunlight, aeration happens well in the barrels, and pollinators (insects and butterflies) and birds visit regularly while water can be controlled as per the season.
The most common issue of a garden on terrace is the waterproofing that can lead to leakage issues. To avoid that risk we have decided to stick to planting everything in scrap buckets and barrels and various containers that we move and clean the area regularly.
Over the year we have had enough compost created in all barrels that we are now utilizing to grow our own vegetables. This year we have planted various varieties of gourds and other climbers that can be excellent vegetables to share as a community.
We had a slow and steady start with just 2 households contributing their kitchen waste, now we have increased the capacity and are accepting waste from 5 apartments. A couple of people in our building are already composting in their balconies, so the great part is that we may almost be a zero waste building in terms of wet waste, which is a great achievement!
We all regularly meet in the terrace and everyone keeps aside various seeds that we try out. We are also planning some kitchen essentials at a scale where anybody can access fresh coriander/lemon/curry leaves/ginger/garlic for fresh use!
It can also be a great learning for the kids who witness waste management instead of only reading garbage problems in books.
Terrace gardens can be a primary way of greening our urban dwellings with maintaining diversity as well as dealing with the humungous problem of garbage in the soundest manner. As sustainability becomes a most celebrated word these days, at its core it is nothing more than following and mimicking nature's cycles so that we slowly eliminate the concept of waste. There is no waste in nature, and our approach should be to eliminate it from our lifestyle as well!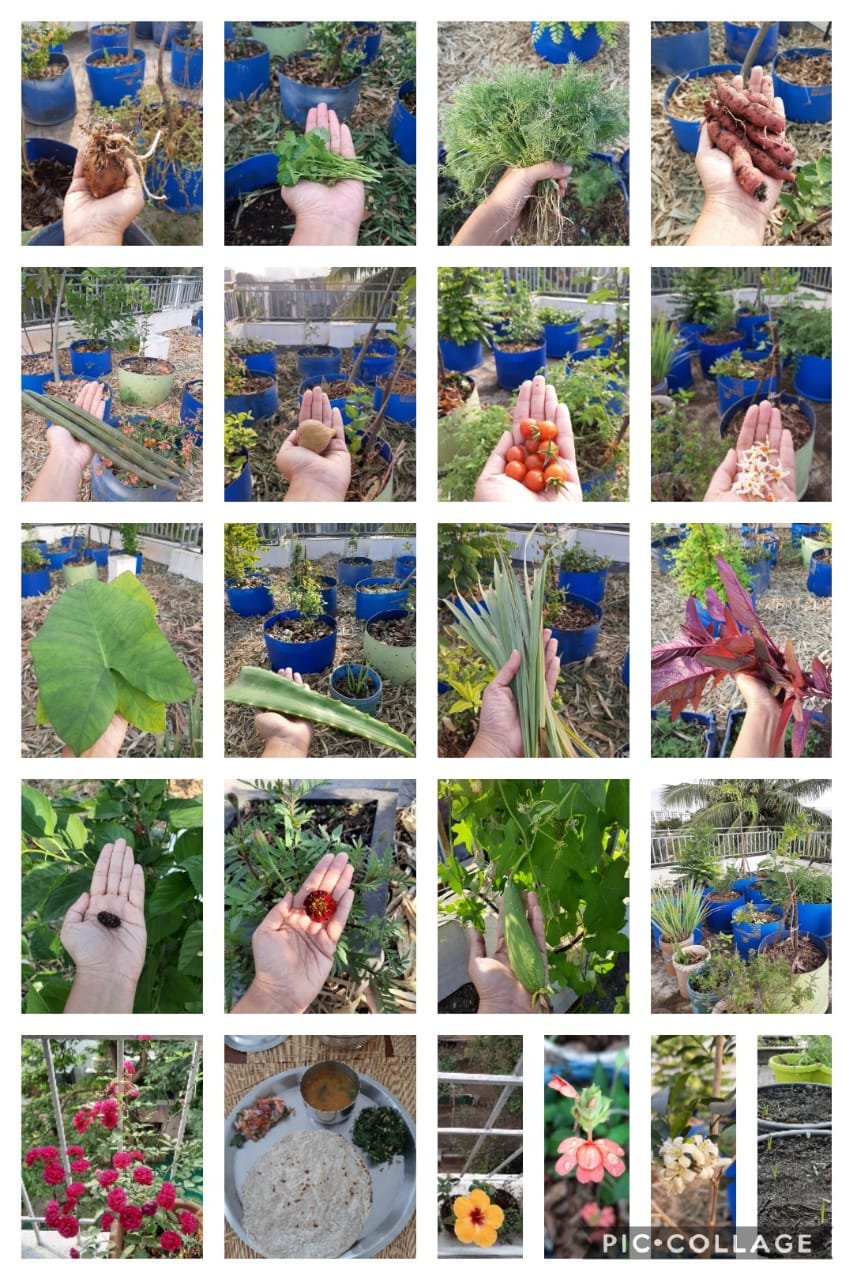 Sonali Phadke
Partner, studio Alternatives